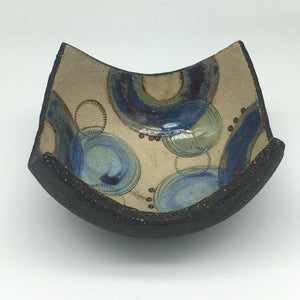 Bowl - Textured black with muted purple crescents with green and blue circles
An individually crafted form which is created from textured black clay.  The piece is decorated with slips and glazes over impressed textures.  One of a collection of work inspired by the sea, sand and coastline, in the Californian winter sunshine.
The piece is fired to stoneware.
Dimensions - 10cm in height, 18cm at the widest point.
---